Abed and Varaiya work named one of 39 "high impact papers" of the 20th century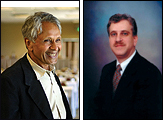 A 1981 paper by ISR Director
Eyad Abed
(ECE/ISR) and his Ph.D. advisor
Pravin Varaiya
(Berkeley) has been named one of 39 "high impact papers in power engineering" in the 20th century by the organizers of the North American Power Symposium 2000.
In 2000, the National Academy of Engineering invited participating professional engineering societies (ASME, IEEE, AICHE, ANS, ASCE, AIAA) to submit a list of nominations for the engineering feats of the 20th century that have had the greatest impact on society. The feat judged the most significant was the mass electrification of much of the world.
With this in mind, the organizers of North American Power Symposium 2000 set out to identify high impact papers from the 20th century that form the basis for modern power engineering work. The 39 papers selected cover the foundations of AC circuit theory, energy conversion, system theory, transmission and distribution, and utilization of electric power. Each area is an indispensible building block to the mass electrification of the world and the use of electric energy for the many tasks we know today.
"Oscillations in Power Systems via Hopf Bifurcation," by Eyad Abed and Pravin Varaiya appeared in the Proceedings of the 20th Conference on Decision and Control, San Diego, IEEE Press in 1981. It was included as one of the 39 papers most influential in the last century.
Published October 23, 2000