Adomaitis, Ghodssi, Sandborn promoted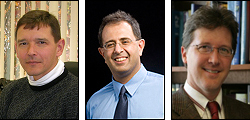 Ray Adomaitis
(ChBE/ISR),
Reza Ghodssi
(ECE/ISR) and ISR-affiliated faculty member
Peter Sandborn
(ME) have been promoted to the rank of full professor by University of Maryland President C.D. Mote. The promotions are effective as of July 1, 2009.
Adomaitis's research focuses on developing chemical process simulation methods with applications to semiconductor manufacturing and solar energy. Specifically, he uses object-oriented computing concepts to simplify the development of modular simulations of nonlinear and distributed parameter systems. The goal is to make as transparent as possible the implementation of the advanced MWR necessary for developing reduced-order models for semiconductor and other chemical process simulation, optimization, control, parameter identification, and sensing applications.
Reza Ghodssi is the Herbert Rabin Distinguished Associate Professor and Director of the MEMS Sensors and Actuators Lab. His research interests are in the design and development of microfabrication technologies and their applications to micro/nano devices and systems for chemical and biological sensing, small-scale energy conversion and harvesting.
Sandborn has experience in electronic part obsolescence forecasting and management; life cycle and manufacturing cost analysis of electronic systems; sustainment of electronic systems (reliability and obsolescence analysis); methodology and implementation of technology tradeoff analysis for electronic systems; design-to-cost; design-for-manufacturability; design-for-environment; MEMS packaging and reliability; C, C++, and web-based client/server (Java) design tool development.
Published April 27, 2009