Alumna Featured in MIT's Technology Review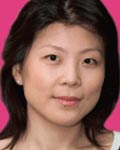 Alumna Heather (Haitao) Zheng (ECE/ISR) was featured in MIT
Technology Review
's Ten Emerging Technologies, a short list of technological innovations "ready to have a big impact on business, medicine, [and] culture" in the magazine's March/April edition.
Zheng, who was advised by Professor K.J. Ray Liu (ECE/ISR), was cited for her work with cognitive radio technology as a method for enabling wireless devices to more efficiently share available airwaves. Zheng's research addresses the problem of competing wireless devices and dearth of available radio spectrum, given the competing frequency ranges dedicated to AM radio, VHF television, cell phones, citizen's-band radio, pagers, and other electronic media. Zheng's cognitive radio technology research focuses on alternative methods to utilize unused frequencies within the radio spectrum. Cognitive radio devices are able to determine which frequencies are quiet and pick one or more over which to transmit and receive data.
This marks the second time in the last six months that Zheng was cited for her innovative technology research in MIT Technology Review. Last September, she was also named to the TR 35 list, which features the top 35 technology innovators under the age of 35. She currently serves as Assistant Professor at the University of California, Santa Barbara.
Visit the MIT Technology Review website to view the March/April Ten Emerging Technologies feature.
Published March 15, 2006