Alumnus Priya Ranjan to join IIT Kanpur faculty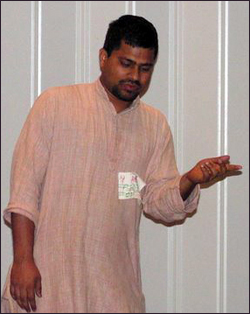 ISR alum
Priya Ranjan
will join the
Indian Institute of Technology Kanpur
as an Assistant Professor in the
Department of Electrical Engineering,
beginning in Fall 2009.
Ranjan received his Ph.D. in Electrical Engineering in 2003. He was advised by ISR Director Eyad Abed (ECE/ISR) and Associate Professor Richard La (ECE/ISR). Ranjan is currently a senior research scientist at Intelligent Automation, Inc., in Rockville, Md., and also is a former ISR research associate.
His current research interests include mathematical multi-agent systems, networked dynamical systems with application to power and robotic devices, power electronics for renewable energy enabled robotic devices with application to agriculture, and data archiving-presentation-vizualization in rural development contexts.
Dr. Ranjan worked in many humanitarian efforts apart from his Ph.D. in "Nonlinear Dynamics of Network Protocols." His humanitarian efforts demonstrated the solid role of the Internet and other networking technologies in mobilizing huge amounts of support for people in need in multiple different parts of the world. He believes that in the world of technology what matters is how we leverage it to build a particular kind of society which not only articulates but also accomplishes many tasks in a rapid, aggressive and efficient manner.
Published June 10, 2009