Alumnus Yan Sun named IEEE Fellow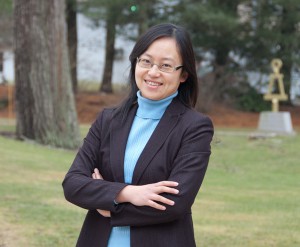 The Institute of Electrical and Electronics Engineers (IEEE) has elevated alumnus Yan Sun (EE Ph.D. 2004) to the rank of Fellow. She is being recognized for "contributions to trust modeling and statistical signal processing for cyber-physical security."
The IEEE Grade of Fellow is conferred by the IEEE Board of Directors upon a person with an outstanding record of accomplishments in any of the IEEE fields of interest. The total number selected in any one year cannot exceed one-tenth of one- percent of the total voting membership. IEEE Fellow is the highest grade of membership and is recognized by the technical community as a prestigious honor and an important career achievement.
Sun is a Professor in the Electrical, Computer and Biomedical Engineering Department at the University of Rhode Island. At the University of Maryland, Sun was advised by Christine Kim Eminent Professor of Information Technology K. J. Ray Liu (ECE).
Sun's research interests are in Cyber-Physical Security, Power Grid Security, IoT Security and Reliability, Trustworthy Social Computing, Trust Management, Key Management, and Cybersecurity. She is the Director of URI's Network Security and Trust (NEST) Laboratory. She received the Women's Institute in Summer Enrichment (WISE) Fellowship at the University of California, Berkeley in 2007, an NSF CAREER Award in 2007, and several Best Paper Awards including the 2010 IEEE International Conference on SocialComputing (SocialCom) Best Paper Award, the2013IEEE Communications Society Best Reading on Communications and Information Systems Security Award, the 2014 IEEE International Conference onCommunications Best Paper Award, andEURASIP's Best Paper Award in 2015. She was named to the Providence Business News 40 Under Forty class in 2015, and recently won the 2018 Premium Award for Best Paper in IET Wireless Sensor Systems.
"As we saw the damage from the Equifax breach, heard that US power grid is attacked nearly 100 times a year, and learned that a new pacemaker hack puts malware directly on the device, there is sense of urgency that we need to protect data, people and the national infrastructure," says Sun. "My research is driven by this urgent need. I am also driven by my curiosity and desire for excellence, which I have obtained during my PhD study at UMD, under the guidance of Dr. K. J. Ray Liu. "
The IEEE is the world's leading professional association for advancing technology for humanity. Through its 400,000 plus members in 160 countries, the association is a leading authority on a wide variety of areas ranging from aerospace systems, computers and telecommunications to biomedical engineering, electric power and consumer electronics.
Dedicated to the advancement of technology, the IEEE publishes 30 percent of the world's literature in the electrical and electronics engineering and computer science fields, and has developed more than 1300 active industry standards. The association also sponsors or co-sponsors nearly 1700 international technical conferences each year.
Published November 29, 2018