Ankur Srivastava named seventh director of ISR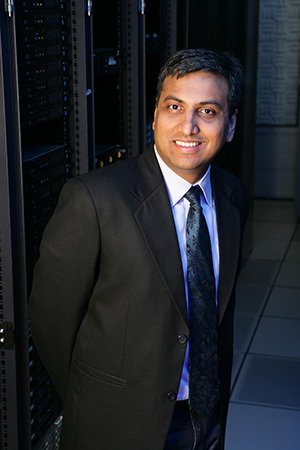 Clark School of Engineering Dean Darryll Pines has named Professor Ankur Srivastava (ECE/ISR) the seventh director of the Institute for Systems Research (ISR), starting July 1, 2019. He will serve in this role for a five-year term. The text of the dean's statement is as follows:
"It gives me great pleasure to announce that Dr. Ankur Srivastava has agreed to become the seventh director of the Institute for Systems Research.
Dr. Srivastava holds a joint appointment as Professor in the Department of Electrical and Computer Engineering (ECE) and ISR. He brings expertise in computer engineering with particular interest in hardware security. In addition to leading a highly successful research program, he also has substantial experience in various administrative roles. He currently serves the Clark School as Associate Dean for Graduate Programs and served ECE as Associate Chair for Graduate Affairs from 2013 to 2018.
In his service to the college, Dr. Srivastava has made substantial contributions to the quality of our graduate programs. For instance, he organized the first "Ph.D. Open House" in October 2018 and led the strategic organization of the Clark Doctoral Fellows Program. Under his leadership, the Clark Doctoral Fellows program has seen substantial growth, leading to an increase in the number of fully funded domestic Ph.D. students. The Clark Doctoral Fellows Program has also contributed to improving the representation of women and minority students in our Ph.D. programs.
ISR offers a unique multidisciplinary environment that promotes and nurtures cross-cutting and transformative research. An increasingly connected world has created new opportunities for breakthroughs in systems thinking and research. I am excited to see that Dr. Srivastava hopes to lead ISR into a new realm of growth. Please join me in welcoming and supporting Ankur Srivastava in his new role. I would also like to thank Dr. Bill Regli for his service as the ISR director, and who will continue his leadership role with ARLIS.
Dr. Srivastava will continue to serve as the Associate Dean for Graduate Programs in the interim until we find a permanent replacement."
Congratulations to Ankur Srivastava—ISR welcomes you as its seventh director.
Published June 26, 2019