Baras Delivers Keynote Address at MobiCom 2008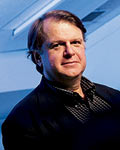 Professor
John Baras
(
ECE
/
ISR
) delivered the plenary keynote address at the 14th Annual International Conference on Mobile Computing and Networking (
MobiCom 2008
), held in San Francisco, California, on September 16, 2008.
The MobiCom conference series serves as the premier international forum addressing networks, systems, algorithms, and applications that support the symbiosis of mobile computers and wireless networks. MobiCom is a highly selective conference focusing on all issues in mobile computing and wireless and mobile networking at the link layer and above.
The title of his lecture was "Multi-hop Mobile Wireless Network Design: Implicit Cross-Layer Loss Models and Performance Sensitivities." Dr. Baras was honored for his new and pioneering research results towards systematic, model-based design of mobile wireless networks to meet performance specifications.
Published November 21, 2008