Baras Gives Invited Plenary Talk at IEEE-CYBER 2011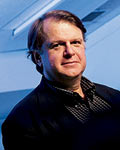 Professor John S. Baras (ECE/ISR) gave the invited plenary lecture on March 21, 2011 at the First IEEE International Conference on Cyber Technology in Automation, Control and Intelligent Systems (IEEE-CYBER 2011), held in Kunming, China, from March 20-23, 2011.

IEEE-CYBER is a newly established international conference focusing on intelligent cyber systems in automation and control. Today's automation systems are increasingly equipped with sophisticated sensors and network interfaces to facilitate real-time monitoring and control through the cyber space. As networking technology continues to increase in bandwidth and decrease in price, this trend is expected to grow by leaps and bounds as new generations of internet-friendly automation systems become increasingly interconnected to provide not only fast and cost-effective, but also advanced intelligent control to a wide variety of disciplines such as healthcare, homeland security, energy, telecommunications, environment, transportation, and manufacturing. IEEE-CYBER 2011 hosted leaders and visionaries from both industry and academia who disseminated their latest research results in intelligent cyber systems, including new scientific theories, computational algorithms, information technologies, and engineering techniques that enable the rapid development and integration of advanced automation systems with internet, networks, and computational intelligence.

Dr. Baras' lecture was entitled "Component-based Architectures for the Synthesis of Intelligent Networked Systems," and its theme was the need for the development of new methodologies and design environments for complex engineered systems. Advances in Information Technology have enabled the design of complex networked systems, with large number of heterogeneous components and capable of multiple complex functions. These advances have at the same time increased the capabilities of such systems and have increased their complexity to such an extent that systematic design towards predictable performance is extremely difficult if not infeasible today. This is especially manifested in the area of cyber-physical systems, of all scales, that have become ubiquitous. In addition, the need for systems that can rapidly adapt to new situations and change their structure and behavior accordingly has also increased dramatically. Dr. Baras presented his research on new foundational methodologies that show promise in addressing these challenges. They include model-based systems engineering, component based synthesis and architectural design towards efficiency and adaptability. He demonstrated their effectiveness in various applications: collaborative robotics, collaborative heterogeneous sensor networks, cybersecurity of critical infrastructures, human-machine teams and organizations, and composite trust.
Published June 14, 2011