Baras Participates in Panel on Mobile Wireless Networks Technology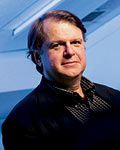 Professor
John Baras
(
ECE
/
ISR
) was one of four distinguished experts who were invited to participate in a panel discussion on "
The Future of Multi-hopping: From Theory to Practice
," at the recent Mobihoc09 Conference in New Orleans. MobiHoc 2009, the ACM International Symposium on Mobile Ad Hoc Networking and Computing, is the tenth of a series of annual meetings sponsored by ACM SIGMOBILE, focusing on the latest research in the rapidly growing area of mobile ad hoc networking and computing. The panel discussion was held on May 20.
Professor Baras stated that despite intensive research over almost 30 years, mobile adhoc networks (MANET) have not yet delivered the promise expected. He further stated that as we move further into mobile broadband and higher link capacities, performance and flexibility, the fundamental challenge is to develop MANET design methodologies so performance is predictable (even bounds are fine). He then described five ideas/concepts that he believes are parts of a promising approach to meet this challenge: (1) Move away from contention-based to scheduling-based MAC protocols; (2) Develop more probing/sensing schemes at all layers to detect/estimate network and other states and use this information in feedback loops (almost 'ATM like'); (3) As MANET become massive distributed asynchronous software systems component-based software and networking are essential with the key obstacle being the linkage of formal models to performance models (break the traditional layers to components); (4) Maintain dynamically multiple topologies (connectivities) of certain kind, because they enable many applications/functions to run fast and reliably; (5) Make the radios very capable, using multiple wireless nets and enabling 'intelligence' in the network.
Regarding applications for this technology, he described military tactical networks as still being the largest, with wireless sensor networks being a close second. Other emerging applications he described are: vehicular networks, space exploration, collaborative robotics, underwater collaborative vehicles, mobile wireless nets in factories, disaster relief and healthcare. Many of these applications rely heavily on the emerging field of 'mobile computing' facilitated by broadband MANET.
Published May 28, 2009