Chellappa Named Chair of Electrical and Computer Engineering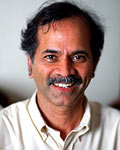 Professor Rama Chellappa has agreed to serve the Clark School's Department of Electrical and Computer Engineering as chair, beginning July 1, 2012. Chellappa, professor of electrical and computer engineering, affiliate professor of computer science and a permanent member of the University of Maryland Institute for Advanced Computer Studies, has served as interim chair since May of last year.

Chellappa will bring to his new position the leadership skills that have made him so effective as the director of the Center for Automation Research, the first president of the IEEE Biometrics Council and the editor-in-chief of the prestigious IEEE Transactions of Pattern Analysis and Machine Intelligence. In addition, he brings a very strong commitment to graduate and undergraduate education as exemplified by his initiating new courses in image processing, image understanding and pattern recognition, mentoring a large number of Ph.D. students, and participating in the ECE MERIT program and the GEMSTONE program.
"We are fortunate to find such an able researcher and educator to ensure the department's continued progress during this transition," said Clark School Dean Darryll J. Pines.

A faculty member at the Clark School since 1991, and a Minta Martin Professor of Engineering, Chellappa received his B.E. (Hons.) in electronics and communication engineering from the University of Madras; his M.S. in electrical communication engineering from the Indian Institute of Science in Bangalore; and his M.S.E.E and Ph.D. in electrical engineering from Purdue University. He has authored and co-authored numerous publications, served as an associate editor for four IEEE Transactions, is a fellow of IEEE, IAPR and OSA, and has received numerous awards, including an NSF Presidential Young Investigator Award. At the University of Maryland he has been elected as a Distinguished Faculty Research Fellow and Distinguished Scholar-Teacher and received numerous awards for research, innovation, mentorship and teaching. Purdue University recently recognized him with its Outstanding Electrical and Computer Engineer Alumni Award.
Published June 15, 2012