Chopra, Cleaveland, Kanold join ISR this fall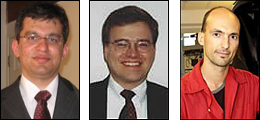 Professor
W. Rance Cleaveland
of the Computer Science Department is now an ISR jointly appointed faculty member. Cleaveland is the executive and scientific director of the
Fraunhofer USA Center for Experimental Software Engineering.
He also cofounded
Reactive Systems, Inc.,
which makes Reactis®, a model-based testing and validation tool for embedded software. His research interests are in formal methods for description and analysis of concurrent and distributed systems.
Nikhil Chopra is a new assistant professor with a joint appointment in Mechanical Engineering and ISR. He earned his Ph.D. in Systems and Entrepreneurial Engineering at the University of Illinois Champaign-Urbana in 2006, and has been a postdoc there for the past year. His research interests are in developing a fundamental understanding of synchronization and control of networked dynamical systems interacting over unreliable communication networks. This work is important in practical applications such as sensor networks, unmanned air vehicles, and robot networks.
Patrick Kanold, an assistant professor in the Biology Department, is a new affiliate faculty member. He also is affiliated with the Program in Neuroscience and Cognitive Science (NACS) and the Center for Comparative and Evolutionary Biology of Hearing (C-CEBH). His current work focuses on early brain development, especially how transient and other early circuits shape the functional organization of the brain and how these circuits controls the critical period. Patrick's multi-faceted approach uses neurophysiological (electrophysiology and imaging) and molecular techniques as well as computer simulations of the behavior of single neurons and neuronal networks. He earned his Ph.D. in Biomedical Engineering at the Johns Hopkins University in 2000 and won the Ralph E. Powe Junior Faculty Enhancement Award here at Maryland in 2007.
Published August 14, 2007