Davis, Smolyaninov awarded two patents for far-field optical microscope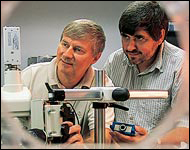 ISR-affiliated Professor
Christopher Davis
(ECE) and ECE Visiting Research Scientist Igor Smolyaninov have been awarded U.S. Patents
7,362,440
and
7,362,442
for a "Far-field optical microscope with a nanometer-scale resolution based on the in-plane image magnification by surface plasmon polaritons."
The invention is a powerful superlens with concentric rings of acrylic glass on a gold film surface, using advanced applications of plasmon technology. The researchers use plasmons—electron waves generated when light strikes a metallic surface—to help reveal fine, nano-scale details that were previously undetectable. The lens can be used to see objects on the scale of small viruses. The research was published in the journal Science and Physical Review Letters, was featured in DISCOVER Magazine's top 100 science stories of 2007, and has received attention from many other science and technology publications.
You can read about the invention in these previous news stories. | Dec. 13, 2007 | March 26, 2007 | Feb. 5, 2007 | Nov. 2, 2006 | Jan. 15, 2005 |
ISR patents are always online for you to view at our patents page.
Published May 2, 2008