Davis Team Wins Funding for Wireless Research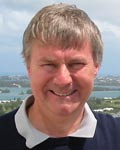 Professor
Christopher C. Davis
, with his colleagues Dr.
Quirino Balzano
, Professor
Robert Gammon
, and Dr.
Vildana Hodzic
, has been awarded a contract by the Mobile Manufacturers Forum (MMF) to develop a new method for measurement of the near-field energy absorption from wireless devices, especially mobile phones. The one year contract is for $293,000 with an optional extension of $115,000.
Professor Davis and his colleagues are using a photo-thermal technique to measure the micro-degree temperature elevations produced in simulated humans (phantoms) by wireless devices. The deflections of multiple laser beams passing through a transparent phantom placed near the wireless device are measured immediately after it is turned on. This allows very rapid determination of the spatial distribution of absorbed energy in the phantom.
It is hoped that this new technique will replace the current slow measurement methods that use electric field probes scanned by a robotic arm in three dimensions inside absorbing phantoms.
Published March 11, 2008