Enlu Zhou is a winner at Clark School Doctoral Research Award Competition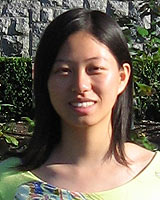 Graduate student Enlu Zhou, advised by Professor
Steven Marcus
(ECE/ISR) and Professor
Michael Fu
(BGMT/ISR), won third place at the Dean's Doctoral Research Award Competition on May 3.
Zhou was honored for her research, "Particle Filtering for Decision Making and Optimization." Zhou, who is expected to receive her Ph.D. degree later this year, will join the Department of Industrial & Enterprise Systems Engineering (IESE) at the University of Illinois at Urbana-Champaign, as an Assistant Professor in the fall.
Darryll Pines, Dean of the Clark School, said the competition winners are "a testament to the level of scholarship produced by Clark School students and faculty."
Published May 6, 2009