Ephremides Receives ONR Grant for Wireless Networks Research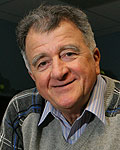 The Office of Naval Research (ONR) recently awarded Prof.
Anthony Ephremides
(ECE/ISR) a grant for his research, titled "Throughput Rates, Capacities, and Ultimate Capabilities for Wireless Networks with Bursty Traffic." Dr. Ephremides, the Cynthia Kim Eminent Professor of Information Technology, will use this one-year grant to research alternative measures of network ultimate capabilities and to develop new methods of analysis and evaluation.
Previously, standard measures of throughput, capacity and rate helped to characterize the ultimate capabilities of networks. In wireless systems, however, mobility, unpredictable fades, and addition and deletion of nodes and links render these measures of little utility. This research will tackle the cases of non-stationary, non-ergodic environments in the context of communication networks for the first time.
Professor Ephremides' research interests include all aspects of Communication Systems (Information Theory, Communication Theory, Multi-user Systems, Communication Networks, Satellite Systems).
More information about ONR grants and research is available at www.onr.navy.mil.
Published October 16, 2009