Fischell Institute Spotlight: Katie Ruland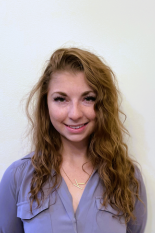 Katie Ruland graduated this past spring with her master's degree in electrical engineering from the University of Maryland. This fall, she will pursue her electrical engineering Ph.D.
Ruland always knew she wanted to be in science, technology, engineering, and math (STEM), but she only considered studying engineering starting in her senior year of high school. A scholastic aptitude test (SAT) tutor told Ruland that she thought through problems creatively and recommended engineering as a career path.
When Ruland researched universities, she thought that most engineering programs tried to scare prospective engineers by citing drop-out rates and course difficulty. However, the University of Maryland's A. James Clark School of Engineering aimed to inspire students instead.
"The Clark School assured us [students] that if we enjoyed challenging ourselves and were ready to work hard, we would succeed," Ruland said. "I returned for graduate school because I felt they [the Clark School] taught me to rise to a challenge and they would continue to do that."
Since January, Ruland has been a member of Fischell Institute Fellow Reza Ghoddsi's MEMS Sensors and Actuators Laboratory (MSAL). This summer, she has been working with Fischell Institute Director Bill Bentley's Biomolecular and Metabolic Engineering laboratory members in continuation of her ingestible electronic capsule research.
"We [the MSAL lab team] focus on designing microsystems that can diagnose, treat, and study gastrointestinal diseases via a capsule small enough to swallow," she explained. "Our capsules target regions of the GI tract that are very difficult to access, even with endoscopy. We use Bluetooth communication to collect data from the capsule."
Curious about Ruland's research, Bentley decided to allow Ruland to work with his lab to add remote capabilities to Bentley's research work with electro-assembling thiolated PEG interfaces that can be adapted for numerous applications in biology.
"While I love learning about specific diseases and problems and developing unique solutions to those problems, I am excited about how this research advances each of these microsystem platforms," said Ruland. "Developing a way to access and solve problems in difficult-to-reach environments provides a new class of solutions to problems that previously weren't possible to solve."
In the future, Ruland would like to continue working in biomedical device research. She is thrilled to start her Ph.D. in the fall and continue to explore her research.
"I am excited to see where my passions take me throughout my career," she said. "My biggest goal will always be to positively impact the most people I can with the things that interest me."
Outside of the lab, Ruland is learning how to box and enjoys both baking and cooking.
Published August 17, 2023