Fischell Institute Spotlight: Nathan Renegar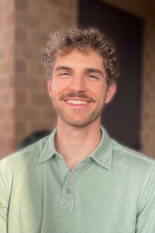 Nathan Renegar is a second-year Ph.D. electrical and computer engineering student. He also graduated in 2021 with a bachelor's degree in electrical and computer engineering from the University of Maryland.
Renegar was inspired to attend the university for its excellent engineering program. For graduate school, he was interested in interdisciplinary projects at the intersection of neuroscience and electrical engineering.
"As a child, I was always interested in science and math," he said. "As electronics and computers came into my life, their inner workings were a nagging, unresolved mystery. That mystery inspired me to pursue computer engineering."
Renegar is working in Fischell Institute Affiliate Fellow Tim Horiuchi's Computational Sensorimotor Systems Laboratory (CSSL). "Working with Dr. Horiuchi has been a great experience so far," exclaimed Renegar. "He has a great deal of electrical engineering and neuroscience knowledge, giving him a fruitful interdisciplinary perspective."
Renegar noted that Horiuchi gives him the academic freedom he needs to grow as a scientist and engineer, while providing constructive feedback. The interdisciplinary nature of the lab's work gives him opportunities to both meet and collaborate with students in other departments.
Renegar is optimizing the growth conditions of neurons separated from an organism and grown in a dish. He and his lab team are growing the neurons on high-density microelectrode arrays (HD-MEAs), special microchips with thousands of microscopic electrodes that allow the team to monitor and evoke neuronal activity with single-cell resolution.
"There's a body of evidence showing the importance of sensory input from eyes, ears, or other brain areas during neuronal development," explained Renegar. "In the absence of this input, in vivo, neuronal circuits will not develop proper connections and activity patterns."
The standard practice for in vitro cultures is to grow neurons with no stimulus until the experiment. Renegar and the lab team are using HD-MEAs to provide external input to neuronal cultures during development. This will help them better understand how the properties and presence of outer input shape the development of neuronal circuits and how they can make in vitro models more similar to in vivo models, which will provide a better foundation for studying neuronal circuits.
Renegar advises those pursuing an engineering Ph.D. to understand that interests are not set in stone. "They'll drift and evolve," he said. "Don't take their unfixed nature as a sign that you've misplaced your previous efforts." Renegar also emphasized that research can often be a nebulous and uncertain process; however, working towards an engineering Ph.D. is about developing the skills to proceed in the face of this uncertainty.
In the future, Renegar would like to continue working at the intersection of electrical engineering and neuroscience. Outside of the lab, he enjoys running, playing music, and reading.
Published July 28, 2023