Five additions to faculty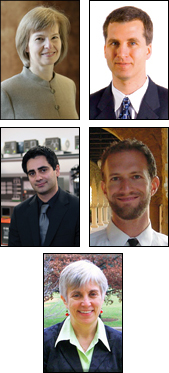 ISR welcomed five faculty members in July 2012; four joint appointments and one new affiliated faculty member.
Elisabeth Smela and Derek Paley, who have been ISR affiliate faculty members for several years, are now ISR joint appointment faculty.
Professor Elisabeth Smela (ME/ISR) is active in our microsystems initiative. She directs the Laboratory for Microtechnologies. Her research interests are in MEMS, particularly polymer MEMS and bioMEMS. She focuses on the use of organic materials (from polymers to cells) in microsystems to realize microactuators, cell-based sensors, and CMOS/MEMS integrated systems.
Associate Professor Derek Paley (AE/ISR) is active in our robotics initiative. He directs the Collective Dynamics and Control Laboratory and has research interests in nonlinear dynamics and controls, cooperative control of autonomous vehicles, autonomous underwater vehicles, and modeling of animal aggregations.
Two fairly recent additions to the Electrical and Computer Engineering Department also have become ISR joint appointment faculty members.
Assistant Professor Alireza Khaligh (ECE/ISR) has research interests in Power electronics, renewable energy systems, energy harvesting, plug-in hybrid electric vehicles, electric vehicles and Smart Grid technologies. He directs the new Power Electronics, Energy Harvesting and Renewable Energies Laboratory.
Assistant Professor Michael Rotkowitz (ECE/ISR) has research interests in decentralized control, optimization and sparse estimation. He has already won two major prizes in the control field, the IEEE Control Systems Society's 2007 George S. Axelby Outstanding Paper Award and the 2011 SIAM Control and Systems Theory Prize.
ISR also welcomes Professor Alison Flatau (AE) as a new ISR affiliate faculty member. Alison is a professor in Aerospace Engineering and the associate dean of research for the A. James Clark School of Engineering. Her research interests are in magnetostrictive materials and transduction; nanotechnology sensors; synthetic jet actuators; active flow control; and biosensors and bioactuation.
Published July 13, 2012