Former ISR grad assistant Briana Thomas writes book on D.C.'s "Black Broadway"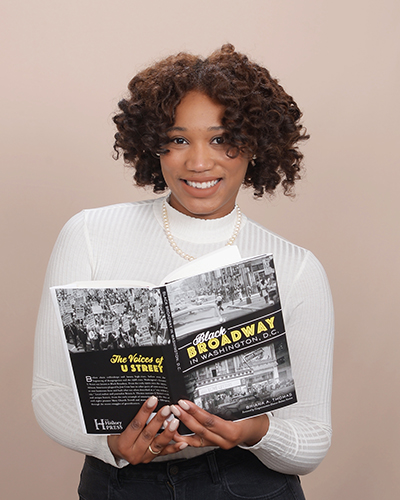 Former ISR graduate student assistant Briana Thomas (M.J. Journalism 2017) is the author of a new book generating excitement around the nation's capital. Black Broadway in Washington, DC tells the story of the famous U Street corridor—the one place where African Americans were allowed to own businesses during the Jim Crow era. In this "city within a city," both Black business and Black culture thrived.
What came to be known "Black Broadway" began in the early 1900s and thrived into the 1950s. U Street was home to hundreds of Black-owned businesses, and nurtured Black cultural icons like music great Duke Ellington and important civil rights pioneer Mary Church Terrell.
Thomas's book also talks about desegregation in the 1960s and the riots of 1968, as well as the impact of Metro construction and U Street's recent struggles with gentrification. It's a comprehensive history of the area, with a foreward written by D.C.'s longtime Delegate to the U.S. House of Representatives, Eleanor Holmes Norton.
Thomas recently gave a one-hour book talk for University of Maryland alumni, which you can watch here on Facebook. She also has been interviewed on WJLA TV's Let's Talk Live DC and on local public radio station WAMU 88.5. Thomas and her book were recently featured in Washingtonian magazine.
Learn more about and purchase Black Broadway in Washington, DC direct from Arcadia Publishing or on Amazon, where it recently ranked the #10 best seller in the Artist and Architect Biographies category.
Published February 26, 2021