Ghodssi Featured in Mechanical Engineering Magazine Cover Story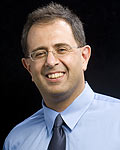 Herbert Rabin Distinguished Associate Professor
Reza Ghodssi
was featured in a cover story in the April 2009 issue of
Mechanical Engineering
magazine. The piece focuses on Ghodssi's research on microscale ball bearings for use in micromachines and Micro-Electro-Mechanical Systems (MEMS) devices.
Ghodssi explains that ball bearings are crucial in the design of MEMS devices in order to minimize friction and to increase the reliability of the devices.
The news article chronicles Ghodssi's research as a postdoc and research scientist at Massachusetts Institute of Technology through to his recent collaborations with Army Research Laboratory and current research in his MEMS Sensors and Actuators Laboratory at the University of Maryland. 

Ghodssi is currently developing MEMS turbines that incorporate his microscale ball bearings technology, which can be used as the central components of miniature pumps, motors, and generators in a variety of applications. The microscale pumps could be used to feed liquid to miniaturized fuel cells, and Ghodssi's microscale turbines could power micro-generators.
For more information on Prof. Ghodssi's research, visit:

http://www.eng.umd.edu/news/news_story.php?id=3421
To visit the Mechanical Engineering magazine website, visit:

http://memagazine.asme.org/Articles/2009/April/Rolling.cfm
Published April 2, 2009