ISR alum Fumin Zhang joins Georgia Tech faculty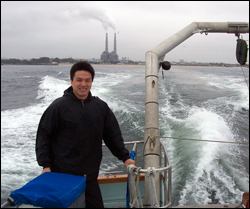 ISR alumnus Fumin Zhang has accepted a position as assistant professor in the School of Electrical and Computer Engineering at the Georgia Institute of Technology in September 2007. He will join the faculty at the recently established Savannah campus.
Dr. Zhang earned his Ph.D. in Electrical Engineering from the University of Maryland in 2004. He was advised by Professor P.S. Krishnaprasad (ECE/ISR).
Currently he is a lecturer and postdoctoral research associate in the Department of Mechanical and Aerospace Engineering at Princeton University. He has been working with ISR alumnae Professor Naomi Leonard (Ph.D. ECE 1994) on control laws and sensing algorithms for underwater mobile sensor networks and adaptive sampling.
His research interests are in long endurance robotic sensor platforms, mobile sensor networks, and nonlinear systems theory.
Published June 4, 2007