ISR faculty host CRCNS Principal Investigators' Meeting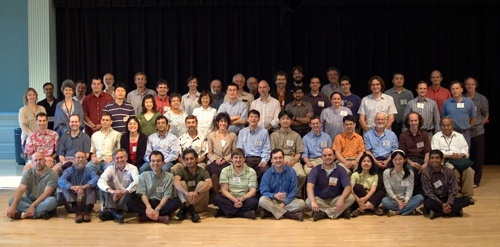 From June 3 through June 5, The University of Maryland hosted the 2007 Principal Investigators' Meeting of the NSF-NIH Program on Collaborative Research in Computational Neuroscience (CRCNS). The meeting, held at the Clarice Smith Center for Performing Arts and the Student Union, was organized by Cynthia Moss (Psychology/ISR), Timothy Horiuchi (ECE/ISR) and P.S. Krishnaprasad (ECE/ISR), at the request of Program Director Dr. Kenneth Whang of NSF. Other participating investigators among ISR faculty are Professor Avis Cohen (Biology/ISR), ISR Assistant Research Scientist Jonathan Fritz, Professor Shihab Shamma (ECE/ISR) and ISR-affiliated Assistant Professor Jonathan Simon (ECE/Biology).
Edward Montgomery, dean of the University of Maryland's College of Behavioral and Social Sciences, gave the welcoming remarks on Sunday afternoon. The meeting was supported in part by funds provided by the University of Maryland's Vice President for Research, Dr. Mel Bernstein.
The 130 participants listened to an internationally known group of researchers and engaged in discussions over lunch and poster presentations on a wide variety of neuroscience topics. Research included vision, audition, olfaction and somato-sensory perception and associated sensory-motor processing. Program officers from NSF and several institutes of NIH were present throughout the meeting, and offered guidance to investigators on funding opportunities during breaks from the scientific lectures.
Published June 7, 2007