ISR visiting exchange student receives City of Toulouse Award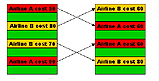 Philippe Montebello, who just completed a stay as a
NEXTOR
visiting exchange student from
Ecole Nationale de L'Aviation Civile
(ENAC) in Toulouse, France, has received an award from the city of Toulouse.
The city bestowed Philippe with its "prix de la ville de Toulouse," the City of Toulouse Award. This award is given to a students from universities and Grandes Ecoles of Toulouse who have spent part of their academic year abroad in an internationally recognized university, and who have been the best ambassadors of the academic and research community of the city of Toulouse. The city offers one award per university and Grande Ecole of Toulouse.
In addition, Philippe's thesis, based on his work on advanced arrival slot-trading mechanisms with NEXTOR, was ranked highest in his class at ENAC. He will be employed within the French civil aviation administration.
NEXTOR, established by the Federal Aviation Administration in 1996, leads the aviation community by advancing new ideas and paradigms for aviation operations. NEXTOR participates in a student exchange program with ENAC.
—July 2004
Published July 4, 2004