ISR's Intelligent Servosystems Lab places two summer interns at Intelligent Automation Inc.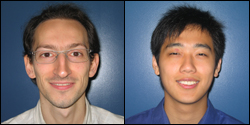 Matteo Mischiati,
a first-year Ph.D. student in Electrical and Computer Engineering, and advisee of Professor
P.S. Krishnaprasad
(ECE/ISR), is spending this summer as a graduate intern at
Intelligent Automation Inc. (IAI)
of Rockville. He is working on path planning algorithms for teams of mobile robots, soon to be implemented on a collection of
AmigoBot
robots. Mischiati received his Laurea degree in 2004 from the ancient University of Bologna in Italy, and worked for two years as a flight control systems engineer for Augusta S.P.A. in Milan, before joining the ECE graduate program as a fellow in 2006. Mischiati is working closely with IAI senior scientist
Babak Azimi-Sadjadi,
an alumnus of ISR and ECE (Ph.D. 2001, advisee of P.S. Krishnaprasad).
Philip Twu, who will be a senior in the fall pursuing a double major in Electrical Engineering and Computer Science, is an undergraduate intern at IAI this summer. He is engaged in bringing to completion for open sourcing a new agent-based implementation of MDLe, a motion control language for robotics. MDLe was initiated in 1994 in ISR's Intelligent Servosystems Laboratory (ISL), as a part of the M.S. thesis of Vikram Manikonda, who received his Ph.D. in 1997, and is now vice president at IAI. In the ensuing decade, MDLe has undergone further development and implementations at ISL. In its new industrial-strength implementation, MDLe will use Cybele, a distributed agent framework and IAI software product. Philip Twu is working closely with IAI engineer Zachary Kulis, an ISR and ECE alumnus (M.S. 2006, joint advisee of P.S. Krishnaprasad and Eric Justh).
Mischiati and Twu are the first interns at IAI in a new program of collaboration with the ISL. The program was initiated thanks to the efforts and support of Vikram Manikonda, which are gratefully acknowledged.
Published June 21, 2007