K.J. Ray Liu develops 'brain' for concealed weapon detector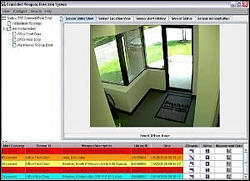 Professor
K.J. Ray Liu
(
ECE
/ISR) is in the news for his work with
Pharad, LLC
, in Glen Burnie, Md. Liu is optimizing Pharad's portable system for detecting concealed weapons on individuals from a distance. The system can be used in a variety of indoor and outdoor environments, including airport concourses and passenger train terminals, public buildings, shopping centers, stadiums, and retail centers.
Liu is creating a state-of-the-art signal processing algorithm that first detects if a weapon is present, then classifies what kind of weapon it is. Each weapon has a unique signature defined by a set of electromagnetic resonances that reflect differently depending on its physical makeup. Pharad is testing various weapons to develop a signature library. While the initial system will detect concealed weapons, Pharad plans to add signatures to find disguised weapons, as well as bombs and explosives.
The system is currently in the development phase and could be on the market within two years.
Liu's work with Pharad is a project in the MIPS (Maryland Industrial Partnerships) program, administered by MTECH, the Maryland Technology Enterprise Institute. The MIPS program provides matching funding for university-based research projects that help companies develop new products. MIPS projects deal with innovative technological or scientific concepts and have direct commercial applications.
The original story, written by MTECH's Eric Schurr, has been picked up by the Washington Examiner, the Maryland Daily Record (registration required to view online story), and online by securitysolutions.com.
Published November 16, 2006