Liu, Alumnus Han Co-Author Book on Wireless Networks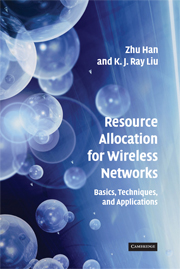 Professor
K. J. Ray Liu
(
ECE
/
ISR
) has co-authored a new book titled
Resource Allocation for Wireless Networks,
published by Cambridge University Press. Liu's co-author is a former student and alumnus, Dr.
Zhu Han
(M.S., E.E., 1999; Ph.D., E.E., 2003), who is now assistant professor of electrical engineering at Boise State University.
Liu's and Han's book offers a systematic and authoritative account of wireless resource management. The book examines basic concepts, optimization tools and techniques, and application examples, providing a unified framework for cross-layer optimization of wireless networks.
Published April 13, 2008