MacroPhage wins graduate student category of Business Plan Competition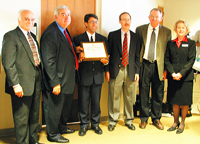 MacroPhage Networks has won the graduate student category of the University of Maryland's 2004 Business Plan Competition. The team consists of Mehdi Kalantari, a Ph.D. candidate in ECE and ISR, Mehdi Alasti, a 2001 Ph.D. from ECE and ISR, and ISR-affiliated Professor
Mark Shayman
(
ECE
), who is CTO and interim CEO.
The company offers a novel technology to identify and eliminate Distributed Denial of Service (DDoS) attacks, serious threats to current and next generation networks. MacroPhage will provide a distributed immunity system for the Internet, composed of cells installed at vulnerable points such as edge routers and firewalls. The cells monitor traffic through the network and perform a test that detects the attack flows.
src="../publications/newsletter/sssu04/Mehdi_BPC_plaqueS.jpg" width="145" height="104" align="left">The test algorithm is based on "Code division multiple access Aggregate Perturbation method" (CAP), a patented technology. This state-of-the-art algorithm detects attack traffic almost immediately (about 30 seconds after start of an attack) and provides an opportunity for the ISP to suppress the illegal flows proactively, before the attack traffic turns into a flood that causes congestion or denial of service. MacroPhage's immunity system is an evolutionary approach that does not require changes in architecture, hardware, software or network protocols. It can be deployed incrementally to provide safety and security for Internet servers and hosts.
The competition was held May 7 in the Clarice Smith Performing Arts Center. Learn more about the Business Plan Competition
—May 2004
Published May 5, 2004