Martins Wins AACC Award for Theory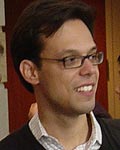 Assistant Professor Nuno Martins (
ECE
/
ISR
) has won the 2006 American Automatic Control Council's (
AACC
) O. Hugo Schuck Award for Theory. Martins won the award for his paper entitled "Fundamental Limitations of Performance in the Presence of Finite Capacity Feedback," which he presented at the 2005 American Control Conference in Portland, Oregon.
Criteria for selection for the Schuck Award include the quality of the written and oral presentation, the technical contribution, timeliness, and practicality. Martins will be presented with the award during the 2006 American Automatic Control Awards luncheon.
Martins recently joined the University of Maryland as assistant professor in August, 2005. Prior to coming to Maryland, Martins was a post-doctoral fellow at the Laboratory for Information and Decision Systems at Massachusetts Institute of Technology (MIT).
Published April 11, 2006