Moss interviewed in NSF video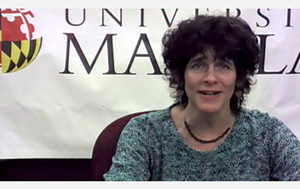 Professor
Cynthia Moss
(Psychology/ISR) was recently
interviewed
by the National Science Foundation's Bobby Mixon about the world of an echolocating bat and how bats navigate using sonar. NSF also created an informative
web page
about Moss's research.
Moss's latest research suggests there is more to studying bats than figuring out how they process sound to distinguish environments. Partially supported by an NSF grant, her research paper appears in the June 18 online edition of the Proceedings of the National Academy of Sciences.
"For decades it's been recognized that a bat's voice produces sounds that give the bat information about the location of objects," Moss told NSF. "We're now recognizing that every time a bat produces a sound there are changes in brain activity that may be important for scene analysis, sensorimotor control and spatial memory and navigation."
The research could help neurobiologists understand mechanisms in the human brain and ultimately benefit human health, but that may not happen for some time as more research is needed.
| View video |
Published June 27, 2008