New ISR Systems Solutions available online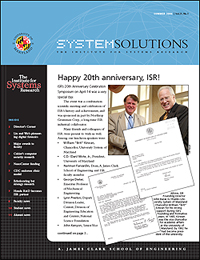 The latest edition of ISR's newsletter,
Systems Solutions,
is now available online in PDF format. Read about:
ISR's 20th Anniversary Symposium
Two decades of achievements at ISR
Min Wu and K.J. Ray Liu's pioneering forensics technology
Major awards to ISR faculty
Michel Cukier's research that quantifies computer security assumptions
A new 10-year international technology contract
Two large funding grants for the Maryland NanoCenter
The endorsement of Jeffrey Herrmann's mass vaccination clinic software by the Centers for Disease Control
Honds R&D signing on as an ISR partner
The echolocating bat work of Cynthia Moss and her colleagues
Faculty, student and alumni news.
| View or download the PDF |
Published August 21, 2006