Oct. 4 event features Michele Gelfand, research colleague of Dana Nau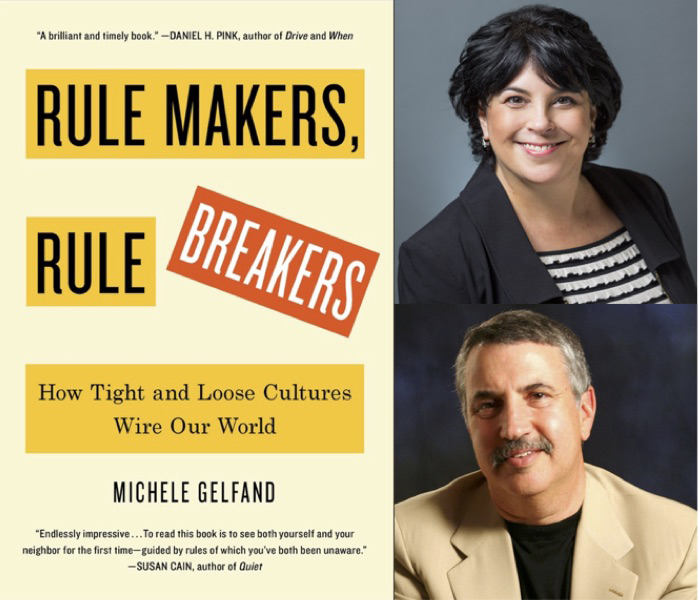 A special event featuring University of Maryland author and Distinguished University Professor Michele Gelfand (Psychology) will be held at the Samuel Riggs IV Alumni Center on Oct. 4. Gelfand is a frequent collaborator with Professor Dana Nau (CS/ISR) on projects involving socio-cultural modeling.
At the event, Gelfand will be in conversation with bestselling author and journalist Thomas Friedman. They will talk about her new book, Rule Makers, Rule Breakers: How Tight and Loose Cultures Wire the World. The work with Nau will be included in the conversation.
University of Maryland Provost Mary Ann Rankin will give the introductory remarks, and a reception will follow the talk.
Reservations are required. Please RSVP by Thursday, September 21, 2018 at https://go.umd.edu/GelfandFriedman18
Nau, Gelfand and their colleagues have been integrating research on evolutionary game theory with cross-cultural psychology for the past decade, publishing in journals such as the Proceedings of the Royal Society B, Nature Scientific Reports, AAMAS, and Organizational Behavior and Human Decision Processes.
In their upcoming 2018 AFOSR MURI subproject, "Social Behavior Analysis and Control Based on MFG Framework," Gelfand, Nau and their colleagues will use real-world data to look at ways mean-field game theory (MFG) could be used to analyze and validate models of human social norm dynamics.
A 2015 study in the journal Nature Scientific Reports suggests increased mobility may help people to treat each other as individuals rather than as members of a defined social group. The work suggests that mobility counteracts the tendency of populations to become more ethnocentric—or prone to favor members of their own ethnic, tribal or national group while being hostile to other groups—over time. Learn more in the ISR news story.
A 2013 study appearing the Proceedings of the Royal Society B suggests that the stronger a community's social ties and the longer most people stay within the community, the more likely it is that otherwise uninvolved third parties will step forward to punish their neighbors. Learn more in the ISR news story.
Published September 7, 2018