Shapiro, Yu Win 2013 BioE Teaching, Graduate Research Awards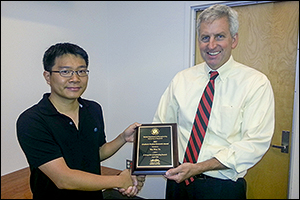 Fischell Department of Bioengineering (BioE) professor
Benjamin Shapiro
and graduate student Wei Wen Yu received the department's 2013 Outstanding Teaching and Outstanding Graduate Research Awards, respectively, at a seminar welcoming students back to campus this fall. BioE professor and chair William E. Bentley, who presented the awards, reminded attendees that the department had an additional reason to celebrate: this year marks the Graduate Program in Bioengineering's 10th anniversary.
Shapiro, who holds a joint appointment with the Institute for Systems Research (ISR) and is a member of the Maryland NanoCenter, was recognized for his exemplary performance in the classroom. A Clark School professor since 2000, he joined BioE's faculty in 2010 and was promoted to the rank of Professor July 1. His research focuses on "control of the small," an emerging field developing methods for the precise manipulation of objects such as individual cells, quantum dots, and drug particles. His group's goal is to enable advances in a variety of micro- and nanoscale fields such as drug delivery, lab-on-a chip devices, the manufacture of nanoscale devices, and nanoprecision imaging.
Yu, advised by BioE/ISR assistant professor and NanoCenter member Ian White, was recognized for his many accomplishments, including first-authorship of four published papers, four patents, and six conference presentations. One of the papers was featured on the cover of Analyst, the Royal Society of Chemistry's analytical and bioanalytical research journal. He has won numerous honors and awards for his research, including BioE's Hong Ji Fellowship, travel awards from the Optical Society of America and the American Physical Society, election to the Clark School's Future Faculty Program, overall winner of the 2013 ResearchFest, and first place and runner-up in his division at the university's Graduate Research Interaction Day in 2011 and 2012. Yu's research is on paper-based analytical devices for surface-enhanced Raman spectroscopy.
Published September 9, 2013