Simon Co-Authors Cover Article for Journal of Neuroscience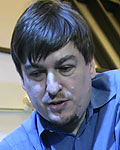 Prof.
Jonathan Z. Simon
(
ECE
/
ISR
/
BIO
) is co-author of the cover article for the current issue of the
Journal of Neuroscience
. The title of the article is "
Detection of interaural time differences in the alligator
."
Simon and his fellow researchers determined that neurons located in alligators' nucleus laminaris (an area of the auditory brainstem whose computations can determine the spatial origin of a sound) act as coincidence detectors to discriminate interaural time differences using algorithms similar to those used by birds, rather than those used by other reptiles. The results argue that these similarities between birds and crocodiles may be general properties of all archosaurs, a larger group that include birds, crocodilians, and dinosaurs.
The article was co-written by Catherine E. Carr, Daphne Soares, Jean Smolders, and Simon.
The article can be found at http://dx.doi.org/10.1523/JNEUROSCI.6154-08.2009. The current issue of the Journal of Neuroscience is at http://www.jneurosci.org/content/vol29/issue25/, and the cover is described at http://www.jneurosci.org/content/vol29/issue25/cover.shtml.
Published June 25, 2009