S.K. Gupta is co-author of book on training in virtual environments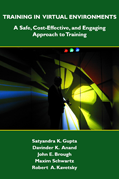 Professor
S.K. Gupta
(ME/ISR) is one of the co-authors of a new book,
Training in Virtual Environments: A Safe, Cost-Effective, and Engaging Approach to Training.
Additional authors are D.K. Anand, J. Brough, M. Schwartz, and R. Kavetsky.
The new book is published by CALCE EPSC at the University of Maryland, and reports on the research of The Center for Energetic Concepts Development at the University Maryland and the Energetics Technology Center in La Plata, Md. in developing methodologies for training in virtual environments. The book also provides an overview of different components of virtual environments.
Technologies covered include displays, tracking systems, and user interaction devices. The book also provides an overview of the basic modeling framework for creating objects in the virtual environment and manipulating them. This material is expected to help the reader understand different technology choices in constructing virtual environments and their advantages and disadvantages in training applications.
For more information about the book, contact Ania Picard.
Published July 31, 2008