Smolyaninov, Davis superlens microscope research published in Science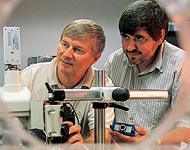 A research team led by ECE Research Scientist
Igor Smolyaninov
and ISR-affiliated Professor
Christopher Davis
(ECE) has published "Magnifying Superlens in the Visible Frequency Range" in the journal
Science.
The team has developed a powerful, nanoscale microscope using advanced applications of plasmon technology. Plasmons, electron waves generated when light strikes a metallic surface, are used in the microscope to help scientists see fine, nanoscale details that were previously undetectable. The Science article, written by Smolyaninov, Davis and Yu-Ju Hung, documents the team's pioneering efforts in developing a superlens and integrating it into a conventional optical microscope to image objects smaller than the limit determined by the diffraction of light waves.
The innovation was also highlighted in an online news article on Nature's website. The team's technology was previously featured in an American Physical Society news article in October 2006.
Smolyaninov and Davis said that the two-dimensional plasmon microscope has the potential to image living cells, viruses, proteins, DNA molecules, and other samples, and could ultimately operate much like a point-and-shoot camera. The team believes they can improve the resolution of their microscope images to around 10 nanometers. By comparison, the width of a human hair is approximately 80,000 nanometers. This new technology could revolutionize the capability to view nanoscale objects at a crucial stage in the development of nanotechnology.
| View a PDF of the article at the Science website |
Published March 26, 2007