Srivastava Named Associate Editor of IEEE Transactions on VLSI and Integration VLSI Journal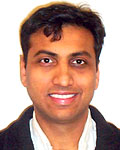 Assistant Professor
Ankur Srivastava
(
ECE
/
ISR
) has been invited to become associate editor for the Institute of Electrical and Electronics Engineers (IEEE)
Transactions on Very-Large-Scale Integration (VLSI)
, the top journal in the VLSI field. Prof. Srivastava was also named associate editor of
Integration, the VLSI Journal
.
Dr. Srivastava's research areas include VLSI design automation techniques and algorithms for low power and high performance integrated systems. His primary focus is on fabrication variability and manufacturability concerns in VLSI. He is also working on low power sensing strategies for real time tracking applications.
IEEE Transactions on VLSI includes research articles pertaining to all aspects of the design and implementation of VLSI/ULSI and microelectronic systems. For more information, visit the IEEE Transactions on VLSI website.
Integration, the VLSI Journal covers every aspect of the VLSI area, with an emphasis on cross-fertilization between various fields of science, and the design of integrated circuits and systems, as well as closely related topics in process and device technologies. For more information, visit the Integration website.
Published January 22, 2009