Student Wins First Prize in Professional Writing Program Contest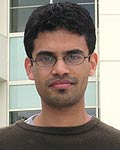 A paper written by 2007 B.S. graduate
Imran Shamim
has taken first prize in the Technical Report category of the University of Maryland's
Professional Writing Program's Annual Writing Contest
, sponsored by the English Department.
Imran's paper was a technical report titled "Design, Simulation, and Layout of a Serial Digital-to-Analog Converter (DAC) Array for On-Chip, Analog Parameter Control."
Imran was an undergraduate researcher in Prof. Timothy Horiuchi's Computational Sensorimotor Systems Laboratory, working in the area of analog VLSI design. His technical report from the ENEE499 project was submitted to the annual Professional Annual Writing Contest for consideration. Imran took the Technical Writing course in the English Department with Prof. Mark Arnold. He is currently a graduate student at MIT.
Published May 15, 2008