Subrahmanian describes computer models to combat insurgencies at AAAS seminar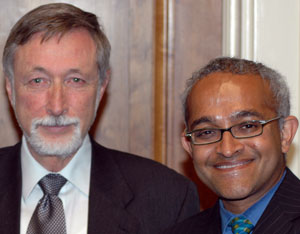 While acknowledging that computer models are still in their infancy and can provide only hints of possible outcomes during the often chaotic conditions in combat zones, UMIACS Director and ISR-affiliated Professor
V.S. Subrahmanian
(CS/UMIACS) said the Pentagon has considerable interest in the use of cross-cultural research to help combat insurgencies. He and George Mason University's Alexander Levis spoke at a June 14 seminar organized by the American Association for the Advancement of Science's (AAAS) Center for Science, Technology and Security Policy on Capitol Hill.
Subrahmanian, co-director of the Laboratory for Computational Cultural Dynamics, described how computers can be programmed to automatically and quickly extract relevant data from thousands of news reports on a topic and offer a probability estimate that a particular action might happen.
Subrahmanian's team has looked at reports of suicide attacks by the militant Hezbollah group, based in Lebanon. Preliminary results by the researchers suggest that when the group is engaged in education and propaganda activities in a major way, there's a 46-47% probability it will carry out suicide attacks. When it is not engaged in such activities, the probability of an attack rises to about 80%.
Subrahmanian's team also did an automated analysis of 1555 recent stories in the Afghan media to assess the perceived strength or weakness of Afghan President Hamid Karzai on a scale of minus 1 to plus 1. The analysis, which searched for phrases containing both opinions and statements of fact that can influence opinions, showed Karzai's overall rating was mildly positive for most news sources.
The intensity of opinions can influence how a group might act during times of stress and conflict, Subrahmanian said. Behavioral scientists would like to find ways to accurately predict how a group might respond, he said, and do so in a matter of hours or days rather than weeks or months.
| Read the full story at the AAAS website |
Published June 26, 2007