Techno-Sciences, Inc. sponsoring robotics seminars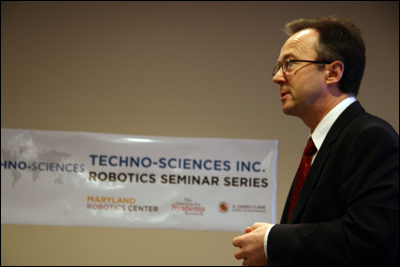 Techno-Sciences, Inc.
is providing financial sponsorship for the Maryland Robotics Center's seminar series, now named the "Techno-Sciences, Inc. Robotics Seminar Series,"
Maryland Robotics Center
Director
S. K. Gupta
(ME/ISR) has announced.
"This generous sponsorship from Techno-Sciences Inc. will enable us to bring well known robotics experts to our campus," Gupta said. "This seminar series is intended to help our students learn about the latest advances in the robotics and also showcase our activities to robotics experts."
Jean-Luc Abaziou of Techno-Sciences was on hand for the first seminar of the semester on January 28. Before the seminar, he spoke about the company, its relationship with University of Maryland researchers, and its interest in robotics.
The seminar speaker was Rogelio Lozano of the Université de Technologie de Compiègne, who spoke on "Hovering Quad-Rotor Control: A Comparison of Nonlinear Controllers Using Visual Feedback."
The Maryland Robotics Center thanks Techno-Sciences for this generous sponsorship, which makes the continuation of this community-building colloquia series possible. The Maryland Robotics Center is housed within the Institute for Systems Research in the A. James Clark School of Engineering at the University of Maryland.
Published January 26, 2011