Toshiba becomes an ISR Sustaining Partner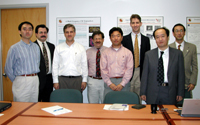 ISR is pleased to announce that Toshiba Corporation, through its Corporate Manufacturing Engineering Center, has become a Sustaining Partner within our
Industrial Affiliates Program.
Toshiba has been a member of the Industrial Affiliates Program since 2001, and has chosen to become a Sustaining Partner based on several significant research accomplishments through joint projects with Professors
V.S. Subrahmanian
(CS/ISR) and
Michael Ball
(Robert H. Smith School of Business/ISR).
ISR Director Eyad Abed (ECE/ISR) said, "We are very pleased to have Toshiba partner with ISR on shared strategic priority technology areas related to advanced product development and manufacturing systems."
On Sept. 24 and 25, Toshiba representatives Dr. Naoto Nishida and Mr. Tomoaki Kubo met with ISR faculty and staff to identify collaboration projects for 2004.
ISR's partnership with Toshiba has produced valuable research results for the international corporation in supply chain management algorithms, data-mining algorithms and advanced process control techniques for semiconductor manufacturing. Five Toshiba engineers have come to the University of Maryland in the past two years as visiting scientists, conducting cross-disciplinary research with ISR faculty members.
The joint research with Michael Ball developed "Advanced Available to Promise" (A-ATP) supply chain management algorithms. This work is a component of a larger ATP program at Toshiba that was awarded the "Outstanding Contribution to Business Performance Award" from the Director of Toshiba's Corporate Manufacturing Engineering Center (CMC) in June of this year. The research will continue through the next year.
Published October 10, 2003