UMD Celebrates Invention of Year Winners, Ventures, and Partnerships at 'Innovate Maryland'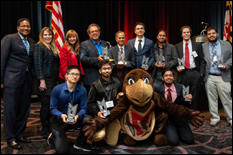 The University of Maryland announced its Invention of the Year award winners – innovations with potential for life-changing impact in health outcomes, electric vehicle charging, and facial detection software – on April 11 at Innovate Maryland, an annual event hosted this year at The Hotel at the University of Maryland.
More than 400 faculty, students, staff, and campus partners gathered to celebrate groundbreaking research, innovations, entrepreneurship, and partnerships connected to the University of Maryland. More than a dozen startup companies borne from UMD research were featured in a showcase, with products ranging from a smart wood stove and a living green patio umbrella to an electronic home plate and mobile personal air conditioner. Prior to the awards program, the UMD Office of Technology Commercialization hosted a CEO Mixer to help connect faculty entrepreneurs with serial entrepreneurs in search of their next venture opportunity.
Since 1987, UMD has honored exceptional inventions that have the potential to make an important impact on science, society, and the free market. The Invention of the Year award finalists are selected from prior year invention disclosures in three categories: Physical Sciences, Life Sciences, and Information Sciences. A panel of judges selected one invention from each category to win the 2017 Invention of the Year Award. Julie Lenzer, associate vice president for innovation and economic development and co-director of UM Ventures, presented the awards.
Physical Sciences and Overall Invention of the Year Winner
Integrated Power Electronics Interface for Enhanced Electric Vehicle Charging
Although electric vehicles are becoming increasingly popular, they have yet to reach widespread adoption as manufacturers aim to reduce costs. One reason electric vehicles are expensive is because they have two batteries which require two different charging systems. UMD researchers have invented a new interface for electric vehicle charging which condenses previous charging mechanisms into one system which is over 50 percent cheaper and lighter, almost 40 percent smaller, and 8 percent more efficient.
The inventors are:
Alireza Khaligh, associate professor in the Department of Electrical and Computer Engineering and Institute for Systems Research at the A. James Clark School of Engineering
Jiangheng Lu, graduate student in the Department of Electrical and Computer Engineering at the A. James Clark School of Engineering
Ayan Mallik, graduate student in the Department of Electrical and Computer Engineering at the A. James Clark School of Engineering
Life Sciences Winner
Flexible Urinary Catheter Insert to Detect and Prevent Bacterial Infections
Urinary tract infections are the most commonly reported health-care associated infection, and over 75 percent of reported cases involve the use of a catheter. Catheter-associated UTIs develop when bacterial biofilms form on the surface of an indwelling catheter. UMD researchers have invented a catheter insert which can detect and prevent the formation of biofilms and can treat the infection when combined with an antibiotic.
The inventors are:
Ryan Huiszoon, Ph.D. student in the Fischell Department of Bioengineering at the James A. Clark School of Engineering
Pradeep Rajasekaran, post-doctoral researcher with the Institute for Systems Research (ISR)
Reza Ghodssi, Herbert Rabin Distinguished Chair in Engineering in the Department of Electrical and Computer Engineering at the A. James Clark School of Engineering and ISR
Information Sciences Winner
Robust System for Large Scale Facial Verification and Search
Facial recognition software has steadily gained popularity over the past decade, but its unreliability and tendency to produce false-positives make it problematic for wide-spread adoption. However, UMD researchers have recognized the potential for face-detection software adoption in many industries and have invented a new software which uses deep convolutional neural networks to analyze images, producing vastly better results than previous software.
The inventors are:
Rajeev Ranjan, graduate student with the UMD Institute for Advanced Computer Studies (UMIACS) at the College of Computer, Mathematical, and Natural Sciences
Carlos Castillo, assistant research scientist at UMIACS
Ramalingam Chellappa, Distinguished University Professor and Minta Martin Professor of Engineering and chair of the Department of Electrical and Computer Engineering at the A. James Clark School of Engineering
---
After the presentation of the Invention of the Year Awards, Brian Darmody, associate vice president and senior adviser to the president on corporate engagement, recognized the Advanced Cybersecurity Experience for Students (ACES) honors program as the UMD Corporate Connector of the Year. The award is given each year to an individual or a program in the university that has established partnerships with the private sector in corporate research, philanthropy, and/or student support.
The Maryland Technology Enterprise Institute (Mtech) Venture of the Year award was presented to MF Fire Inc., a Baltimore-based startup company selling CatalystTM, a smart, clean, modern wood burning stove based on technology developed at UMD. The award recognizes excellence in innovation by leveraging University of Maryland-originated new knowledge or technology to solve real world problems.
Dean Chang, associate vice president of innovation and entrepreneurship closed out the awards program with a Celebration of Campus Innovators and an interactive activity featuring Innovate Maryland guests donning t-shirts provided by PrimeMeTee, a company launched by Scott Roberts, UMD director of instructional excellence and innovation for the campus' Teaching & Learning Transformation Center. The t-shirts were designed to reveal the word "Innovator" when seen in the reflection of a mirror.
The UMD Office of Technology Commercialization is grateful for the support of its 2018 Innovate Maryland sponsors:
Gold Sponsors

:

Carter, DeLuca, Farrell & Schmidt, LLP
United Solutions

Red Sponsor

:

Rosenberg, Klein, and Lee

Black Sponsors

:

AuerbachSchrot
McCarter & English
Shapiro, Gabor and Rosenberger PLLC
TEDCO

White Sponsors

:

Hodgson Russ LLP
Leveque IP Law, P.C.
Sterne, Kessler, Goldstein & Fox
Whiteford Taylor Preston, LLP
William Beaumont
The Maryland Department of Commerce.

And a special thanks to

: Squire, Patton, Boggs
Startup Showcase Participants
Airgility
Freestate Optics
Grip Boost
Living Canopies
MF Fire
Mobile Comfort
MPLEX VR
New Eden
pathOtrack
Precision Polyolefins
Second Write
TranscendVR Studios
Visisonics
Published April 17, 2018