UMD Company CoolCAD Launches Kickstarter Campaign for Security Keychain that Locks Your Computer When You Are Away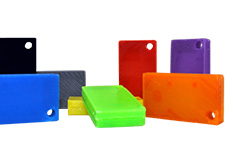 CoolCAD Electronics LLC, a University of Maryland-based electronics design company, just launched a 30-day Kickstarter campaign for its new GateKeeper Chain security product, a small, colorful key fob that automatically locks your computer when you leave and unlocks it when you return, university officials announce today.
The GateKeeper Chain works over Bluetooth 4.0 (Bluetooth SMART) wireless technology, combining a personal sensor with an encrypted connection that allows only its unique key to unlock your computer. The password is encrypted and stored on your PC, not the GK-Chain—so no one can steal it. The result is effortless security for your computer when you walk away, and easy access when you return.
"Our goal is provide people who use computers with optimal security and convenience," said Electrical and Computer Engineering graduate Dr. Siddharth Potbhare (M.S. 2005, Ph.D. 2008), who co-founded CoolCAD. "It's easy to forget to lock your computer when you leave your desk, and it's a chore to log back in when you get back. GateKeeper takes care of both."
As an extra layer of security, CoolCAD offers a companion smartphone application that lets you manage and track your keys, but more importantly—warns you when you leave your keys behind.
Initial prototypes work with PCs and Android phones, although the company is creating Macintosh and iOS versions as well.
Rewards for backers of the GateKeeper Chain Kickstarter campaign include access to pre-production-run prototypes, custom gold or silver key fobs, laboratory tours with CoolCAD's engineers and designers, and up to 50 hours of one-on-one consulting to create customized products, which could include logos, additional branding and optional form factors.
CoolCAD plans to use its Kickstarter funding to take the patent-pending GateKeeper Chain from a fully functional prototype to a 200-unit pilot production run, which the company will use to obtain FCC certification and conduct comprehensive reliability testing and failure analysis tests.
Full production runs for the GateKeeper Chain are slated for June, with an expected delivery of the first 4,000 devices in July.
CoolCAD's ten-member team includes Co-Founders UMD Electrical and Computer Engineering and Institute for Systems Research Professor Neil Goldsman, and Vice President and UMD alumnus Dr. Akin Akturk, who earned his Ph.D. in Electrical and Computer Engineering in 2006.
CoolCAD is a member of the Technology Advancement Program incubator, an initiative of the Maryland Technology Enterprise Institute (Mtech) in the A. James Clark School of Engineering, whose graduates include Martek Biosciences and Digene Corporation, both of whom were acquired for more than $1 billion. The company's headquarters are in Mtech's Technology Ventures Building, located off-campus near the College Park Metrorail station.
CoolCAD has acquired research and development projects and subcontracts totaling over $4 million over the past five years, including Phase I and Phase II SBIRs/STTRs and four Mtech Maryland Industrial Partnerships program grants with two different UMD professors.

About CoolCAD Electronics LLC www.coolcadelectronics.com
CoolCAD Electronics is a computer-aided design (CAD) and custom electronics design firm that specializes in electronic design applications. Our expertise ranges from nanostructure and device modeling, design and analysis to integrated circuit design and layout, all the way to printed circuit board-level electronics development. Our services range from semiconductor fabrication and characterization to electronics design and prototyping, as well as circuit modeling and simulation.
Published February 19, 2014