UMD RASC-AL Team Wins Big, Akin Recognized with PEACH Award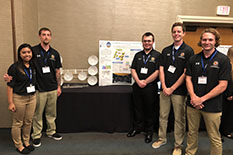 A team of 19 undergraduate students in the Department of Aerospace Engineering were recently recognized at the Revolutionary Aerospace Systems Concepts–Academic Linkages (RASC-AL) Awards Ceremony in Cocoa Beach, Florida for designing a reusable hybrid propulsion stage that employs innovative combinations of operations and technology to improve on the current National Aeronautics and Space Administration (NASA) baseline in-space stage for transporting crew and cargo between cis-lunar space and the Mars system. This baseline is a hybrid concept consisting of a low-thrust Solar Electric Propulsion (SEP) system combined with a high-thrust chemical system.
The team, composed of all seniors from the Department of Aerospace Engineering's Space Systems Design course, won first place for the theme category and second place in the overall competition, which comes with a stipend to allow them to prepare and present a paper at the American Institute of Aeronautics and Astronautics (AIAA) SPACE and Astronautics Forum (2018 AIAA SPACE) in September.
According to their competition paper, their design—called Trans-Mars Exploration Reusable Propulsion Stage (TERPS)—employs 4 chemical engines using unsymmetrical dimethylhydrazine and nitrogen tetroxide (UDMH/NTO), 12 nested Hall effect thrusters using xenon (Xe) propellant, and 8 solar thermal power systems with Gregorian concentrators. The power generation system will yield 750 kW throughout planned mission durations, 668 kW of which go to the solar electric propulsion system. The innovative solar thermal power generation system allows for versatility in payload capacity from 50t to 110t.
The team includes five sub-teams: Avionics, Flight Control, and Software (Brian Davis, Austin Mahowald, Ryan Quinn, and Robert Van Fleet); Load, Structures, and Mechanisms (Christopher Bernard, Logan Gibb, and Evan Peaco); Mission Planning and Analysis (Rosemary Davidson, Luke Renegar, and Mathew Vaughn); Power, Propulsion, and Thermal (Dylan Bell, Dylan DiBernardo, James McLaughlin, David Nestor, and Mandeep Sawhney); and Systems Integration (Karenna Buco, Joshua Curreri, Zane Gardenhour, and Nolan McMahon). The faculty advisors are Dr. David L. Akin, Dr. Andrew C. Becnel, Dr. Mary L. Bowden, and Dr. Jarred Young.
Dr. Akin, who attended the event, was also recognized at the Awards Ceremony. Akin, who is the Director of the University of Maryland's Space Systems Laboratory, won the Pioneering Exceptional Achievement Concept Honor (PEACH) Award for the most innovative and meaningful idea presented at the RASC-AL Forum. The PEACH award was established in honor of Lewis Peach, who contributed a great deal to space exploration, served as the chairman of the RASC-AL Steering Committee for more than a decade and was an inspirational leader and mentor.
RASC-AL projects allow students to incorporate their coursework into real aerospace design concepts and work together in a team environment. The competition is open to undergraduate and graduate university-level students studying fields with applications to human space exploration (for example, aerospace, bio-medical, electrical, and mechanical engineering; and life, physical, and computer sciences).
For more information about the competition, visit http://rascal.nianet.org/.
Published June 27, 2018