Work of Cohen, Etienne-Cummings profiled in WIRED magazine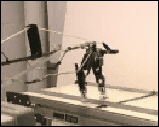 Professor
Avis Cohen
(Biology/ISR) and ISR-affiliated Associate Professor
Ralph Etienne-Cummings
(Johns Hopkins University) continue to make the news for their work on lamprey spinal cords.
WIRED magazine profiles their work in the article "Lamprey May Offer Paralysis Cure."
The pair has developed a chip modeled on the lamprey spinal cord that contains a silicon analog of spinal circuits. The chip can control a walking robot. Feedback from the joint angles and foot-falls of the robot are incorporated to train networks of neurons in the spinal cord called central pattern generators to recognize the correct frequency and phase relationship between limbs that is necessary for smooth and natural motions.
Published January 8, 2008