RoboNation 'SeaPerch' Robotics Competition and UMD Robotics Open House on June 4
A large international K-12 underwater robotics competition hosted at the University of Maryland
MEDIA ADVISORY May 31, 2022
CONTACT:
Janelle Curtis, RoboNation
571.236.7837
jcurtis@robonation.org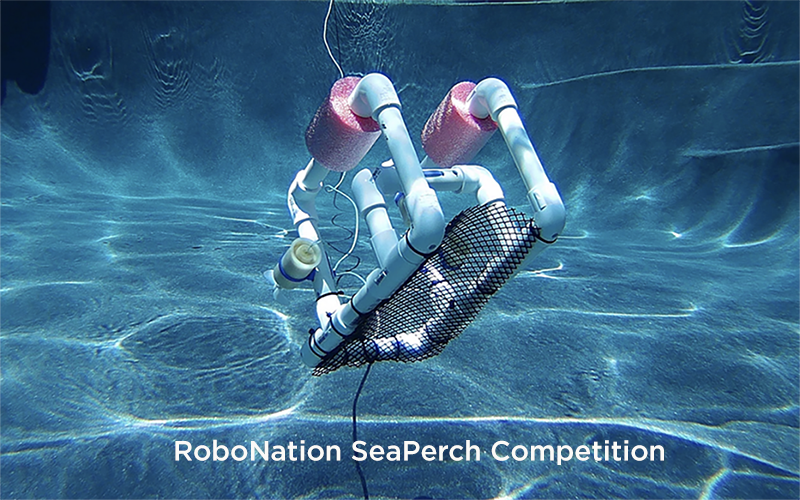 COLLEGE PARK, Md. – Join us for the SeaPerch Competition and Media Day on Saturday, June 4, 2022 from 9:00 a.m. to 5:00 p.m.
WHY: The University of Maryland (UMD) is the venue for the RoboNation SeaPerch K-12 underwater robotics competition. More than 1,000 students, parents and teachers are expected to attend and compete with their robots in the Eppley Recreation Center's Aquatic Center on campus in College Park. As a bonus, the Maryland Robotics Center will be hosting an open house in the Brin Family Aerial Robotics Lab on the ground floor of the futuristic Brendan Iribe Center for Computer Science and Engineering. The Open House will be available from 12:30 to 4:30 p.m.
WHAT: The International SeaPerch Challenge is an event where teams design a SeaPerch robot and show off their engineering skills through technical papers and presentations. In the pool, teams navigate their SeaPerch through a series of obstacles inspired by the real world that test maneuverability, control, and utility. Currently, more than 130 international teams from New Zealand, UAE, the Cayman Islands, Puerto Rico, Egypt and the United States have qualified to compete at the international challenge.
SeaPerch is a remotely operated vehicle (ROV), a competition, and a community. This keystone program is the first step in the RoboNation STEM to Workforce pipeline engaging students in robotics and autonomous technology. The SeaPerch program guides students on building an underwater robot while supplying educators with the tools and training to help them through the process and reaches over 250,000 students a year.
Maryland Robotics Center Open House. The Brin Family Aerial Robotics Lab is a facility that tests flying and ground robotic platforms. The lab has a 15 ft.-high, 430 sq.ft. netted area for safe quadcopter tests, state-of-the-art Vicon motion capture system, and a workbench with tools for supporting and maintaining drones. Open 12:30 to 4:30 p.m.
WHO: RoboNation is a 501c3 nonprofit organization whose mission is to provide a pathway of hands-on educational experiences that empower students to find innovative solutions to global challenges. The pathway begins with SeaPerch and includes autonomous vehicle competitions in all domains including the Student UAS (SUAS) competition and RoboSub, both of which will also be hosted at University of Maryland facilities this summer.
The nationally recognized UMD Maryland Robotics Center is a highly respected home for robotics education and research. The center has more than 40 participating faculty members from eight academic departments in engineering and computer science.
WHEN: Saturday, June 4, 2022, 9:00 a.m. to 5:00 p.m. Masks and advance notification are required.
WHERE:
RoboNation SeaPerch Competition
Eppley Recreation Center's Aquatic Center, 4128 Valley Drive, University of Maryland, College Park, MD 20742.
Parking: Visitor parking is available in the Terrapin Trail Parking Garage. Please follow this link for additional parking details and this link to an interactive campus map.
Maryland Robotics Center Lab Open House
Brin Family Aerial Robotics Lab, Brendan Iribe Center for Computer Science and Engineering, 8125 Paint Branch Drive, University of Maryland, College Park, MD 20742.
Parking: Separate permits for lots next to the Iribe Center are available for those wishing to cover this aspect of the day's events.
See map here.
More Information:
REGISTRATION REQUIRED: Use this link to register your organization's interest in attending and covering the event.
Two additional RoboNation competitions will be held at the University of Maryland this summer
June 15-18
SUAS: UMD UAS Test Site @ St. Mary's County AeroPark in southern Maryland
July 27–August 2
RoboSub: UMD, College Park @ Eppley Recreation Center
Additional media advisories will be forthcoming for these events.
About the A. James Clark School of Engineering
The University of Maryland's A. James Clark School of Engineering is a premier program, ranked among the top 20 in the world. Located just a few miles from Washington, D.C., the Clark School is at the center of a constellation of high-tech companies and federal laboratories, offering students and faculty access to unique professional opportunities.
Our broad spectrum of academic programs, including the world's only accredited undergraduate fire protection engineering program, is complemented by a vibrant entrepreneurial ecosystem, early hands-on educational experiences, and participation in national and international competitions.
The Clark School is leading research advancements in aerospace, bioengineering, robotics, nanotechnology, disaster resilience, energy and sustainability, and cybersecurity. From the universal product code to satellite radio, SMS text messaging to the implantable insulin pump, our students, faculty, and alumni are engineering life-changing innovations for millions. Learn more at www.eng.umd.edu.