Alum Sheryl Chocron-Spieler wins poster award at BMES/FDA Frontiers in Medical Devices Conference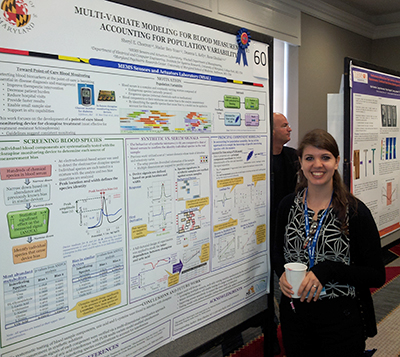 Alumna Sheryl Chocron-Spieler (M.S. BioE 2014) was awarded Best Poster Runner-Up at the "BMES/FDA Frontiers in Medical Devices Conference: Innovations in Modeling and Simulation," held in May in Adelphi, Md. "Multi-Variate Modeling for Blood Measurement: Accounting for Population Variability" was one of more than 70 posters presented at the conference.
At Maryland, Chocron-Spieler was a member of the MEMS Sensors and Actuators Laboratory, advised by ISR Director Reza Ghodssi (ECE/ISR).
She is currently a business analytics associate at ZS Associates, a pharmaceutical and medical devices firm in Princeton, N.J.
Co-authors on the poster are ISR Postdoctoral Researcher Hadar Ben-Yoav; Professor Deanna L. Kelly (Psychiatry) of the University of Maryland School of Medicine; and Dr. Ghodssi.
Published June 3, 2015