Alumna Sun Wins Best Paper Award at IEEE SocialCom 2010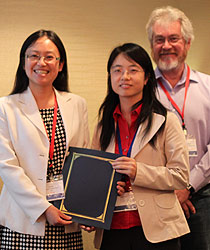 ECE alumna Dr.
Yan Lindsay Sun
, (Ph.D., E.E., '04) received the Best Paper Award at the IEEE International Conference on Social Computing (
SocialCom 2010
), which was held August 20-22 in Minneapolis, MN. The title of the paper, co-authored by
Yuhong Liu
, was "
Anomaly detection in feedback-based reputation systems through temporal and correlation analysis
."
Social Computing can be broadly defined as computational facilitation of social studies and human social dynamics as well as design and use of information and communication technologies that consider social context. Social computing has recently become one of the central themes across a number of information and communication technology fields and attracted significant interest from not only researchers in computing and social sciences, but also software and online game vendors, web entrepreneurs, political analysts, digital government practitioners. SocialCom 2010 provided a key forum for researchers and industry practitioners to exchange information regarding advancements in the state of art and practice of social computing.
During her time at the University of Maryland, Prof. Sun was advised by Prof. K.J. Ray Liu. They co-authored a book together with University of Maryland alumnus Wade Trappe, titled "Network-Aware Security for Group Communications." She was awarded an NSF CAREER Award in 2007 for her project, titled "Building Trust in Distributed Networks: Theories, Architecture and Applications." Her research interests include network security and wireless communications and networking. She is a member of the IEEE Communication and Computer Societies.
Published August 26, 2010