Alumna Yan Sun Earns Tenure at Rhode Island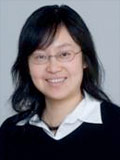 Dr.
Yan Lindsay Sun
, a 2004 ECE Ph.D. graduate, was recently promoted to Associate Professor with tenure at the University of Rhode Island, effective July 1, 2010. She has served there as Assistant Professor of Electrical, Computer, and Biomedical Engineering since 2006.
During her time at the University of Maryland, Prof. Sun was advised by Prof. K.J. Ray Liu. They co-authored a book together with University of Maryland alumnus Wade Trappe, titled "Network-Aware Security for Group Communications." She was awarded an NSF CAREER Award in 2007 for her project, titled "Building Trust in Distributed Networks: Theories, Architecture and Applications." Her research interests include network security and wireless communications and networking. She is a member of the IEEE Communication and Computer Societies.
Published April 20, 2010