Six Clark School faculty become affiliates of ISR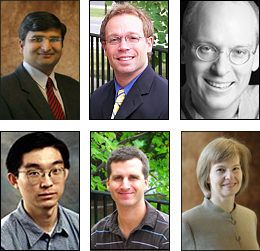 ISR cordially welcomes six Clark School faculty who have become affiliates of the Institute.
Associate Professor Jaydev Desai (ME) has research interests in medical robotics, haptic interfaces for robot-assisted surgery, surgical simulation, model-based teleoperation, and cellular surgery. Along with S.K. Gupta and others, Desai invented the Minimally invasive neurosurgical intracranial robot, which won the University of Maryland's Invention of the Year award in 2007. Desai is part of the new Maryland Robotics Center within ISR. You can read more about his research on the center's website.
Assistant Professor Sean Humbert (AE) has research interests in flight dynamics and control, bio-inspired sensing, estimation, locomotion, and autonomous robotics. Humbert is the director of the Autonomous Vehicle Laboratory, which develops biologically inspired autonomous robotic vehicles. He is part of the new Maryland Robotics Center.
Associate Professor Bruce Jacob (ECE) is interested in memory systems, embedded systems, circuit integrity, and memory management. Recently Jacob was in the news for his COIL electric guitar. The guitar's unique electronics—pickups, circuit boards and switch configurations—expand the range of sounds the instrument can produce without time-consuming rewiring.
Assistant Professor Derek Paley (AE) conducts research into nonlinear dynamics and controls, cooperative control of autonomous vehicles, autonomous underwater vehicles, and modeling of animal aggregrations. His Synthetic Collective Unmanned Underwater Laboratory project is a modeling, simulation, and prototyped framework for cooperative unmanned underwater vehicle behavior. Paley is part of the new Maryland Robotics Center.
Associate Professor Gang Qu (ECE/UMIACS) is interested in VLSI intellectual property reuse and protection, low power system design, applied cryptography, computer-aided synthesis, and sensor networks.
Associate Professor Elisabeth Smela (ME) works in microelectromechanical systems (MEMS), particularly polymer MEMS and bioMEMS. She focuses on the use of organic materials (from polymers to cells) in microsystems to realize microactuators, cell-based sensors, and CMOS/MEMS integrated systems and in recent years has frequently collaborated with ISR faculty Pamela Abshire and Ben Shapiro in these areas. Smela heads the Laboratory for Microtechnologies. She is part of the new Maryland Robotics Center.
Published April 20, 2010