Alumnus Tandon awarded best paper at GLOBECOM 2011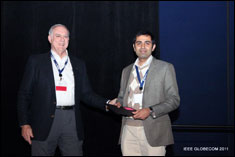 Ravi Tandon, an alumnus of doctoral program in ECE received the best paper award in the Communication Theory Symposium at the IEEE Globecom conference held in Houston, Texas. The conference took place from December 5- 9, 2011.
Tandon, who was advised by Professor Sennur Ulukus, presented the paper titled, "Discriminatory Lossy Source Coding: Side Information Privacy."
Ravi Tandon graduated with his Ph.D. from the department in 2010 and is currently working with H. Vincent Poor in the Department of Electrical Engineering at Princeton University. His research interests include interference management via feedback, cooperative communication and relaying, and information theoretic security. While at UMD, Ravi was nominated for the University of Maryland, Graduate School Best Dissertation Award, and also for the ECE Distinguished Dissertation Fellowship Award.
Ravi's advisor at the University of Maryland, College Park, Sennur Ulukus, is a Professor in the Department of Electrical and Computer Engineering. She holds a joint appointment in the Institute of Systems Research. Ulukus' research interests include wireless communication theory and networking; network information theory for wireless networks; signal processing for wireless communications; information-theoretic physical-layer security; and energy harvesting communications.
The IEEE Global Communications Conference (GLOBECOM), the annual flagship conference of the IEEE Communications Society (ComSoc), is the premier telecommunications event for industry professionals, academics, companies and government agencies from around the world. The meeting in 2011 marked the 54th annual conference. Themed "Energizing Global Communications", IEEE GLOBECOM 2011 covered the entire range of communications technologies, offering in-depth information on the latest developments in voice, data, image, and multimedia. IEEE GLOBECOM 2011 featured 12 Specific Symposia, Tutorials, Workshops and the Industrial Forum and Exhibition.
Published January 10, 2012